What Our Clients Say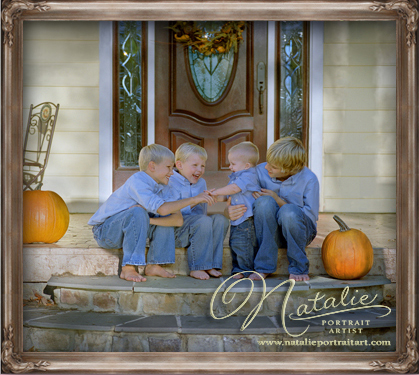 "The portraits of the boys just really speak to me- they're what I see in my mind when I think about my children…Why wouldn't you have artwork of the most precious people in your life hanging in your home? I would say that if you treasure your family, you'll treasure your portraits by Natalie!"
Mrs. Heather Prokopchak Roanoke, Virginia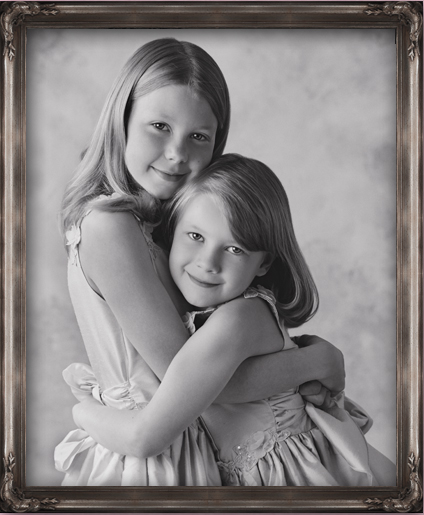 "We say, 'Oh, I wish they wouldn't grow up so fast, I wish they would stay little,' about our children. The thing that I love about our portraits of Delaney and Faith is how every time we look at them, they're still those innocent little girls, forever, no matter how old they really get. These portraits captured that time in their lives.
And we really love that they're together in the portraits we have on the wall. They are close, and of course since we're their parents, we see their everyday interactions with each other – the squabbles, the giggles, as well as the moments when they show how much they care about each other.
The one we have on the wall in our bedroom shows how they really feel about each other – you can see it on their faces. You can feel the love they feel. We want them to be able to remember that, even years from now when they are finally all grown up."
Bill and Donna McGuirt, Roanoke, Virginia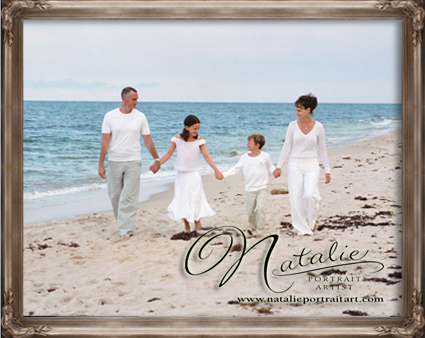 "Natalie, you were wonderful to work with! You made Amy and Charlie feel special and involved. The whole experience, from start to finish, was easy and relaxing. Thank you for capturing both our family's and our children's unique traits as you did. We love our portrait."
Patricia and Rich Eggleston, Roanoke, Virginia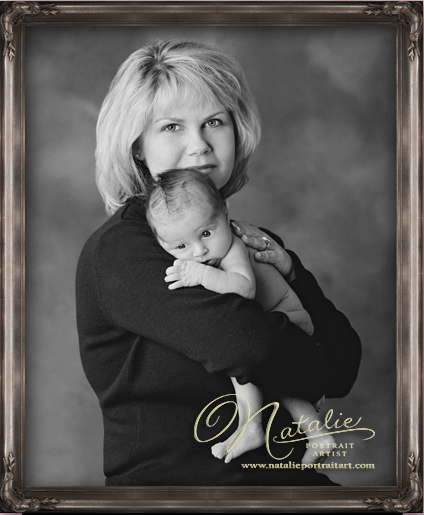 "We've been thrilled with all of the portraits that Natalie has done for us. Our portraits are artistically beautiful, it's true, but even more importantly, Natalie captures the essence of the love and wonder we feel for our daughter. The warmth and intimacy we had seen in her portraits inspired us to take advantage of her unique vision.
This portrait brings back a special time for us – now it's hard to even remember Hannah being that small! We waited so long to have a child, and at one point we weren't sure we would. So it was such an exciting time for us. She was only 2 weeks old – looking at the portrait and seeing her so small, it just brings back all these memories of that wonderful time in our lives."
Jeff and Jodi Hill Salem, Virginia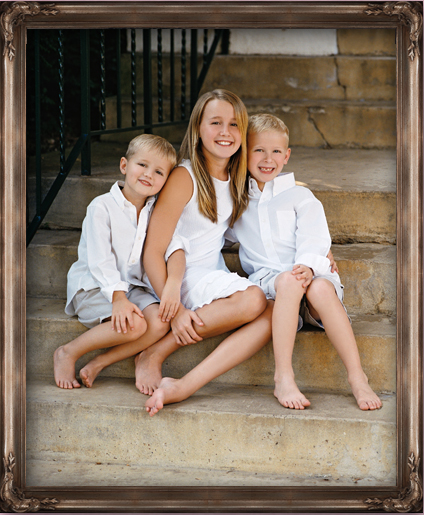 "Natalie has been part of our family since our youngest son, Will, was a baby. She created a portrait of Will and Mary Lynn that's just incredible, that still hangs on our wall. Since then she's done portraits of our daughter Rachael, our whole family, and most recently, all 3 of the kids together. Her portraits hang all over our house, and they are our favorite artwork…
Time is going by so quickly, and we wanted to make sure to have the kids' portrait made before they got any older, and they lose that innocence that they still have. We want our children to have something meaningful to remember their childhood, even after we're gone. We want them to know that they are loved, unconditionally. And these portraits help them to know that."
Doug and Mary Lynn Wright Roanoke, Virginia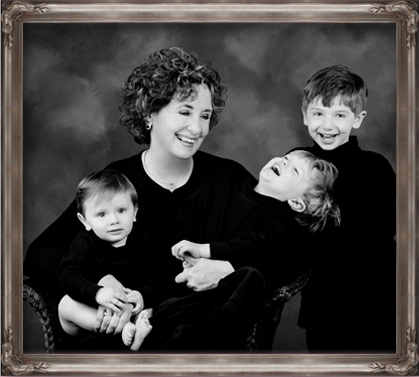 "What I like about Natalie's work is that her portraits are not just pictures – they speak to you about relationships. This portrait captures a relationship, and love, and feelings, and the stages that the children are in, which is important, because children change very, very quickly. You have to capture that, because you can never get it back, once they've grown up. Natalie's photographs do that, and they give us this wonderful sense of how the family is growing…
…We own lots of artwork, but these portraits mean more to us than ordinary paintings, because it's my own family, and that makes it especially dear to me …Natalie is extraordinarily gifted. She is a wonderful artist, and she has my highest recommendation."
Mary Elyn McNichols Roanoke, Virginia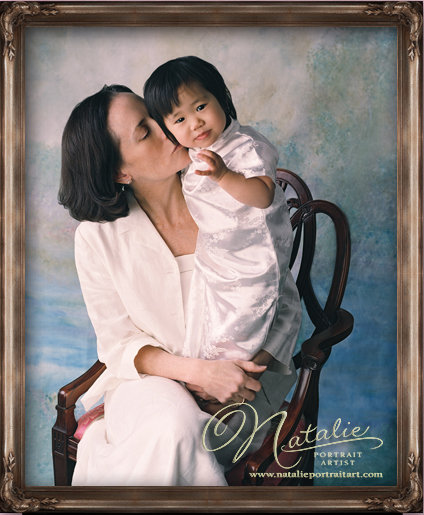 "When I look at my portrait of Annadora and me on my wall, I see a moment in our early life together, when she was my baby; when it was a new beginning for both of us. I feel the warmth of being her mother, and the peace of knowing that there's no where else I'd rather be than with her, and I imagine all the things we're going to do together…Natalie does a very good job of capturing the spirit of people, and I feel that sense of special connection between my daughter and me every single time I look at our portrait, even after all this time…"
…Sometimes when you're a mother, the days seem long, but the moments are just so fleeting. This portrait is really important to me because it captures one of those moments. You may think, 'Oh, I can't afford to do this,' but my response is, how can you afford not to? Natalie's portraits are absolutely priceless."
Thesia Garner Washington, DC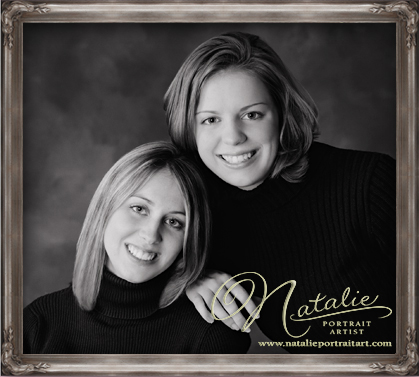 "Time passes quickly – and they're gone before you know it. Soon they'll have their own families, but right now we still have them all to ourselves…I'm happy that Claire and Renee are as close as they are, and I see that in the portrait…
…Renee exudes charisma, while Claire is much more reserved, and she's never liked to have her picture taken, so we're very appreciative that Natalie spent so much time creating these portraits. There were so many unique sides of their personalities shown in the portraits because of that. The portraits were just right. The time invested is really a gift – it's wonderful."
Dr. Samuel and Mrs. Helen Butler, Roanoke, Virginia