The Toddler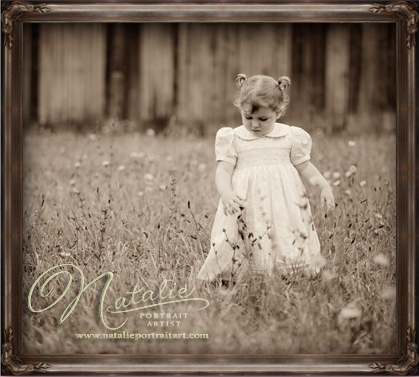 Delaney McLaughlin, daughter of Doug and Natalie McLaughlin of Roanoke, Virginia
As part of a multi-day session of the entire McLaughlin family on the family's legacy farm in Clifton Forge, Virginia, grandmother Beverly wanted a portrait of Delaney, the youngest grandchild and only girl in the family. The morning we created this image, the sun was muted by hazy clouds, giving us a perfect halo of soft light for portraits. Here, Delaney explores the cornflowers growing freely around the antique barn.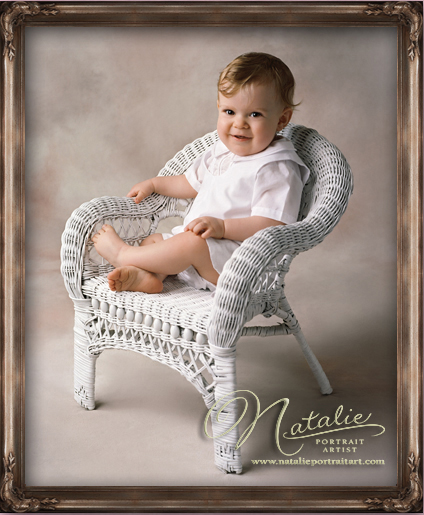 Talmadge Gibbs, son of Phil Gibbs and Linda Hooks of Lexington, Virginia
Tal was about a year old when his parents brought him in for his first portrait session with us. He had only just begun to take a few steps – the very beginning of his toddler years! He did show off his new skills for us during the session, but everyone's favorite image was this one. His parents loved his adorable smile and of course, his little toes and fingers, still round and babylike.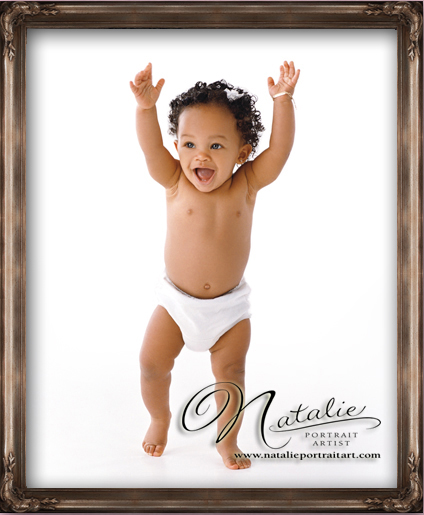 Athena Jacobs-Wimbish, daughter of Drs. Pink Wimbish and Jacqueline Jacobs of Blue Ridge, Virginia
As you can see, Athena was already toddling when she came in for her one-year portraits. I think this portrait epitomizes what it must feel like to walk those first few steps – a sense of freedom she hadn't felt until then. Athena has gorgeous green eyes, which makes her all the more stunning.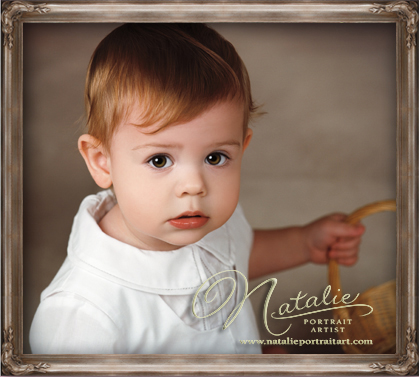 William Gibbs, son of Phil Gibbs and Linda Hooks of Lexington, Virginia
Will is Tal's younger brother, but even at the age of one, he definitely has his own personality! It's intriguing to see their baby portraits side by side- they look alike, yet they don't; they have similar coloring, yet still different. This is the case with so many siblings. Will was very interested in everything in the studio, and very busy exploring, but for one split second he looked right into my lens. This image shows off his gorgeous brown eyes, and the still-babyish contours of his face.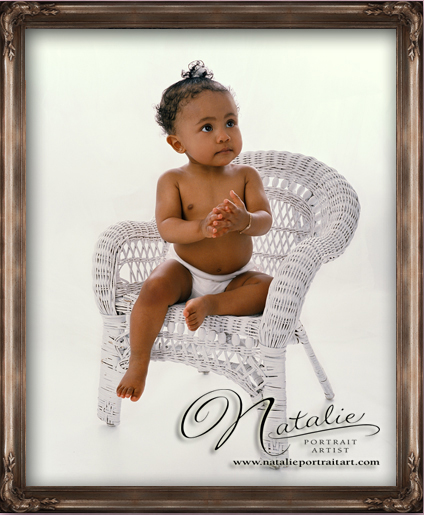 Olivia Jacobs-Wimbish, daughter of Drs. Pink Wimbish and Jacqueline Jacobs, of Blue Ridge, Virginia
Here in her one-year portrait, Olivia looks pensive. Again, the differences between siblings is readily apparent – the older, Olivia, a bit tentative, while her younger sister Athena was ready to run. Olivia was delicate, a little on the shy side. This portrait shows this side of her personality at that time in her life.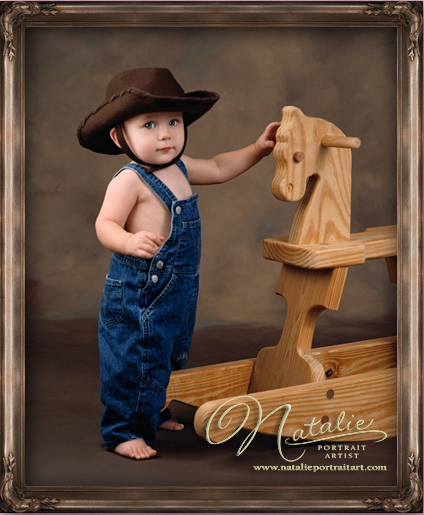 Keaton Prokopchak, son of Dr. Richard and Mrs. Heather Prokopchak of Roanoke, Virginia
Keaton was already well on his way to walking when he came in for his one-year portrait, but fortunately for us, wasn't quite up to speed yet. This always gives us an advantage in capturing these expressions! The rocking horse, a gift from his grandparents, was something new to him, so it held some curiosity for him. His mother brought along the cowboy duds, so we had the perfect outfit for a little cowboy. This image hangs as part of a collection in the family's home.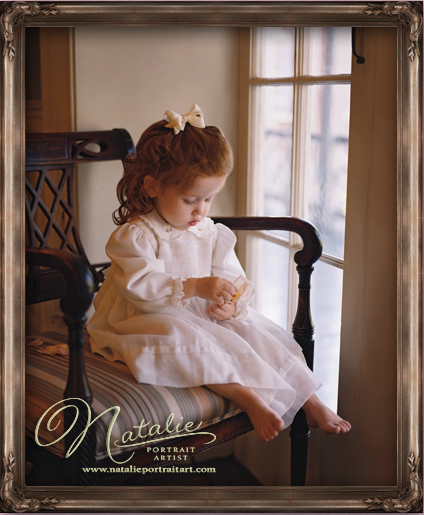 Madeleine Shreeman, daughter of Josh and Marnie Shreeman of Roanoke, Virginia
Madeleine was a doll of a little girl – feminine, sweet, adorable. We created this portrait with light coming through the French door, while she played with a flower. Her beautiful hand-smocked dress and the ambiance of the room made this the favorite image for the family's wall.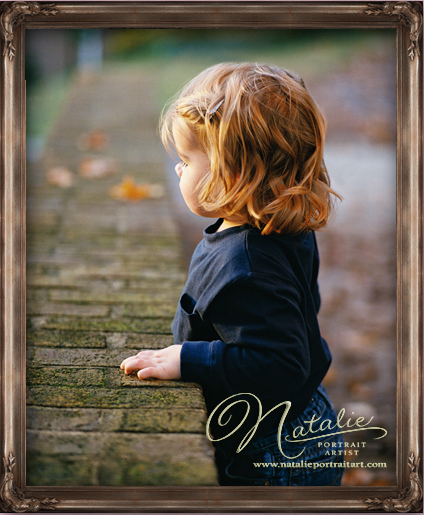 Savannah Derey, daughter of Walt and Meggan Derey of Roanoke, Virginia
During a family portrait sitting in the fall leaves, Savannah explored the surrounding area. She was a little camera-shy, so this image tells a little about her at that time. The evening light glowed through the autumn colors, and perfectly sculpted her chubby two-year-old cheeks.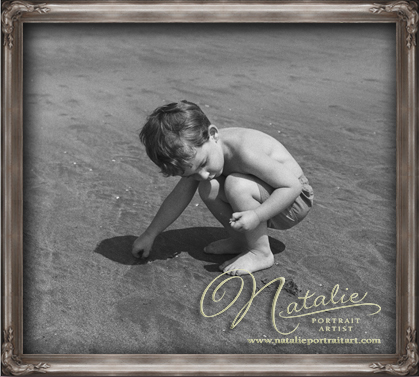 Jordan White, son of Keith and Sharon White of Roanoke, Virginia
I created this image of Tim's nephew, Jordan, on a trip to Kiawah Island, when he was little. He was playing in the sand and examining shells, when I spotted the perfect shadow that the high afternoon sun created beneath him. Even though Jordan is now in college, this is still one of my favorite images. . .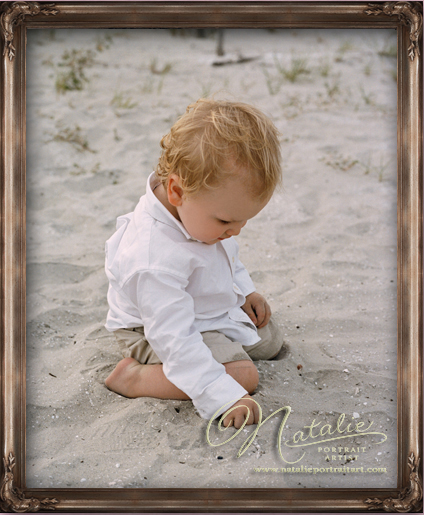 Oscar Lauth, son of Larry and Kim Lauth of Reston, Virginia
We've photographed Oscar ever since he was about four months old for his grandmother, Mary Elyn McNichols. This image was part of a portrait session of Oscar's family on the beach at Hilton Head, South Carolina, when he was about 18 months old. He wasn't quite sure what to do with the sand, but was fascinated with it. According to his grandmother, Oscar has always been one to jump right in and explore. The sand kept Oscar busy while we photographed him. This portrait is part of a series of the family on the beach.