The Child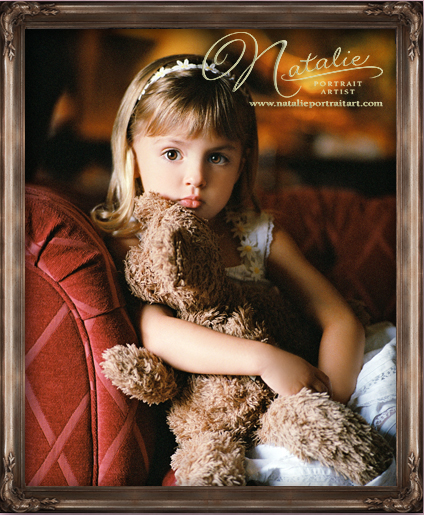 Emily Goodpasture, daughter of Richard and Robyn Goodpasture of Salem, Virginia
This image was taken at the end of a portrait session around Emily's home. As you can see, Emily is a natural in front of the camera. The soft evening light was still coming through the windows, and this was one of my favorites from the session because she was so relaxed, holding onto her favorite teddy.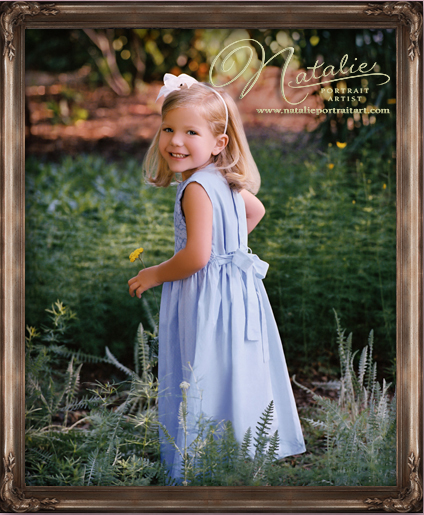 Claire Peterson, daughter of Mark and Amy Peterson of Salem, Virginia
A quintessential little girl, Claire was wonderfully cooperative during our session at the Arboretum. This image was very "in the moment", and was one of her parents' favorites. We photographed her throughout the gardens on a warm summer evening.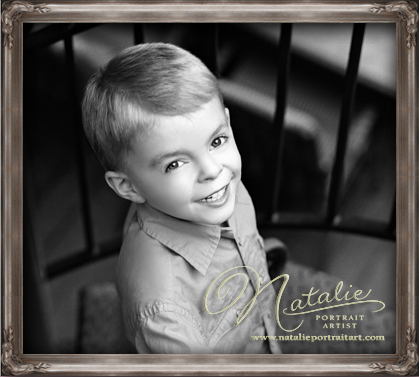 Grayson Goodpasture, son of Richard and Robyn Goodpasture of Salem, Virginia
Grayson is as sweet as he looks in this image. We photographed him at his home, both inside and outside. This was created on a spiral staircase outside. As he was walking up the stairs, he turned to look up at me, and voila!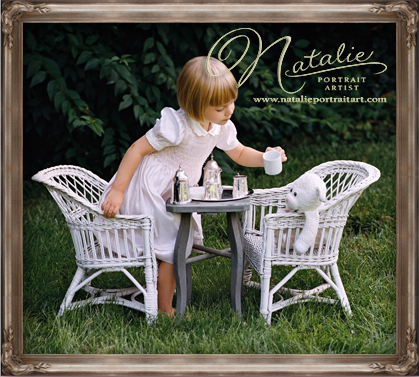 Emory Claire Perry, daughter of David and Julie Perry of Roanoke, Virginia
As part of a portrait session commissioned by her grandmother, Emory had a tea party with her dolls and explored her mother's flower gardens. We captured this image just following her through the house, and it made the perfect ending to a First Edition Book for her grandmother.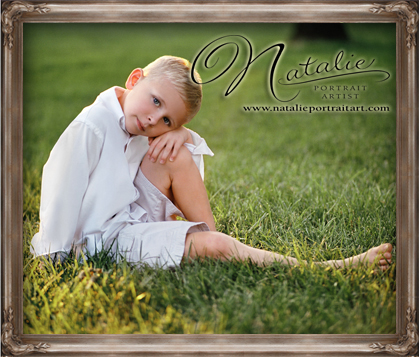 Justin Wright, son of Doug and Mary Lynn Wright of Roanoke, Virginia
Justin's mom loved this image of him because he was so himself. This was at the end of a session with Justin and his siblings together, and since the lighting coming across the lawn was so beautiful, we decided to create some images of each of the children alone. What I love about this portrait is that it's hard to catch Justin not smiling a "camera smile"; here, he was natural and relaxed.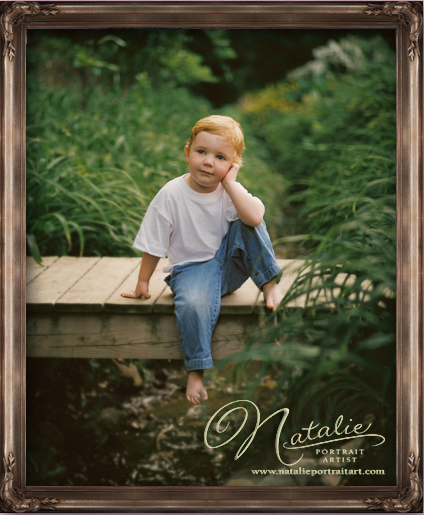 Peyton Thomasson, son of Bill and Beth Thomasson of Roanoke, Virginia
This image if still one of my all-time favorites, even years later. Peyton was very sweet-natured and laid-back. We captured this pensive moment in his young life in the charming garden at his grandparents' home. The location perfectly suited his personality.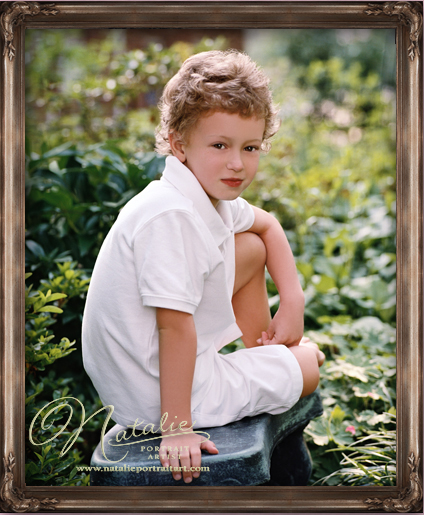 Mason Sease, son of Jody and Rose Sease of Mount Pleasant, South Carolina
Grandmother Jenny Sease took the opportunity to have all of her grandchildren photographed together while they were all in town for a visit. We also created images of the children separately. This was Jenny's favorite of Mason, and it hangs in his home.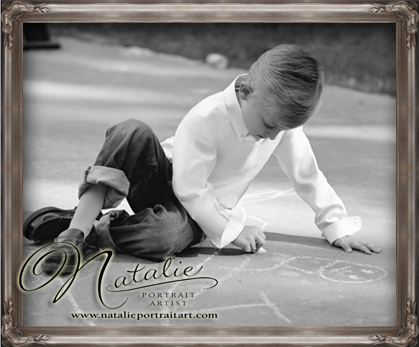 Rye Goodpasture, son of Richard and Robyn Goodpasture of Salem, Virginia
Rye could not have been a better model for me – he's a natural! We photographed him all around his home and when he sat down to draw with some sidewalk chalk during a break, I spotted him through the window. Without his notice, I photographed him completely absorbed in his artwork.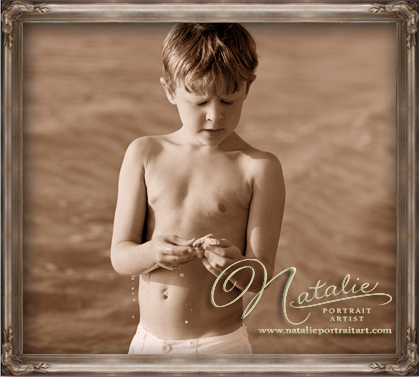 Charlie Eggleston, son of Rich and Patricia Eggleston of Roanoke, Virginia
We captured this beautiful image of Charlie at the end of an early-morning Destination Portrait session on the beach. Here, the sun was high up in the sky a few hours after sunrise, and Charlie was playing at the edge of the water when he found a starfish. The light from behind him perfectly illuminated the droplets of water. This image reminded Charlie's mom of a fashion ad, and it was one of her favorites.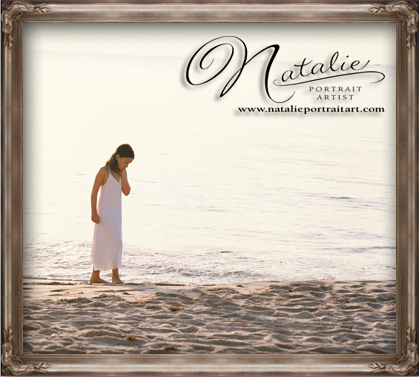 Amy Eggleston, daughter of Rich and Patricia Eggleston of Roanoke, Virginia
Amy was pensively walking along the water's edge when I turned to see her through my lens. Amy has a quiet, serious nature, so this portrait pictures her well. The image was part of the Destination Portrait session that included her brother and parents in Palm Beach, Florida, and is featured in a First Edition Book of the many images we created during the sessions.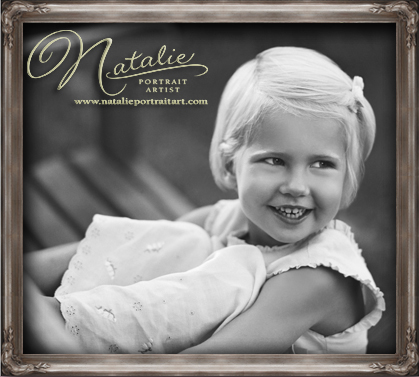 Meg Coolbaugh, daughter of Kevin and Shari Coolbaugh of Roanoke, Virginia
Here, Meg looks like she's up to something – and she often is. Her parents both loved this photograph because it really captures her engaging personality. Even the way she's sitting shows something of what she's like – playful, impish, on the go. Portraits are best when they draw you in, and this one of Meg insists that you keep looking and try to find out what she's thinking.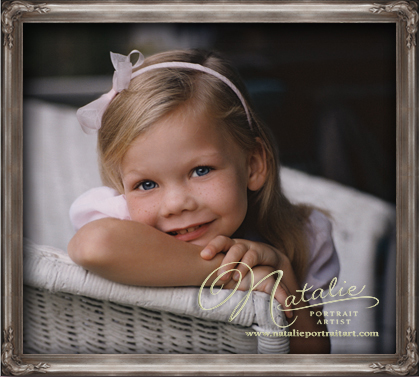 Caroline Peterson, daughter of Mark and Amy Peterson of Salem, Virginia
Caroline is like this image of her – a little shy, feminine, quiet and calm. This photograph was her mom's favorite. We created images of Caroline at an older home with beautiful gardens and porches, and near the end of the evening she relaxed in a wicker chair. The sun had set and there was just a hint of light in her eyes, softening the edges of the background and highlighting Caroline's big blue eyes.