The Baby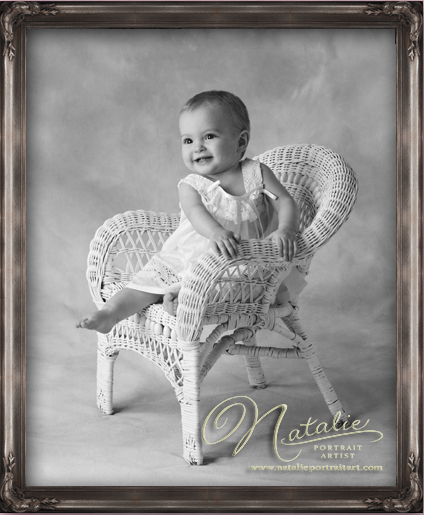 Emily Goodpasture, daughter of Robyn and Richard Goodpasture, Salem, Virginia
Emily was not quite walking when she came to the studio for her second portrait session with us (the first time, she was only 2 weeks old!) We created some beautiful images of Emily with her mother Robyn, and some of her by herself, in this simple dress that Robyn had been saving until Emily grew into it. Since she is the last of three children, and the only girl, Robyn wanted something feminine and sweet of her. Fairly easy to accomplish with such a beautiful baby!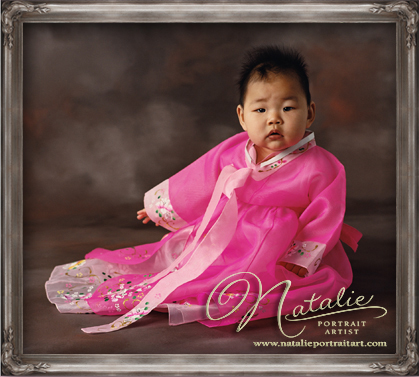 Madeleine Clouser, daughter of Michelle Clouser, Roanoke, Virginia
Michelle wanted to capture Madeleine in a portrait while she was still a baby, so during her session, we created several different styles of portraits. Everyone loved this particular image of Madeleine in this gown, from her native Korea. Even though her smile was beautiful and bright in many of the other images, this captivating expression really draws us in to her face and inquisitive brown eyes.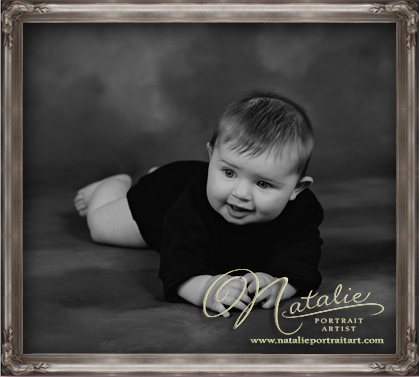 Corbin McLaughlin, son of Natalie and Doug McLaughlin, Roanoke, Virginia
Corbin was in the studio with his older brother Aidan and his parents for their latest family portrait. Natalie and Doug wanted something similar but not identical to a portrait they had already done of Aidan when he was a small baby. Corbin was a natural for the camera- his chubby legs and hands, his round face and cherubic expression, all added up perfectly for this beautiful, classic baby portrait.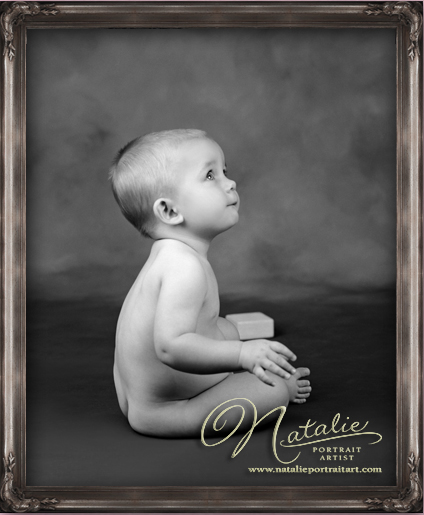 Keaton Prokopchak, son of Richard and Heather Prokopchak, Roanoke, Virginia
Keaton was about to turn one when he came to the studio for that momentous one-year portrait. Fortunately for us, he wasn't quite ready to walk on his own yet, so we could do some quiet images while he played. I feel this is a quintessential baby portrait – I love how Keaton is looking up at his mom, off to the side of the image, and how the profile highlights his chubby cheeks, and still-chubby hands, legs, and feet. Once babies begin to walk, they shed some of that roundness. Heather and Rick were very glad that we caught him at this very special age!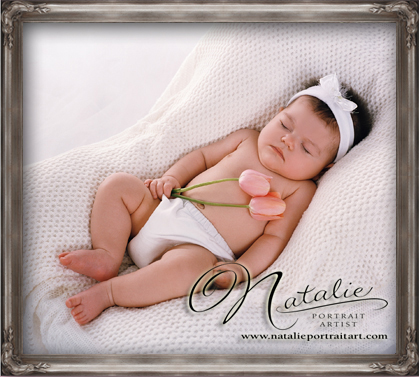 Isabelle Perez, daughter of Jessica and Ricardo Perez, Roanoke, Virginia
Little Isabelle was almost determined, from the minute she came into the studio, to not have her portraits made! Her mother and I did everything we knew to do soothe, calm, and quiet her, but she was having none of it. Just about the time we were ready to give up and plan another day – we were all at our wit's ends! – Isabelle fell asleep. Doesn't she look angelic here? After a short sleep, she woke up and we were able to create some beautiful images of her. When working with babies, you never know how the day might go.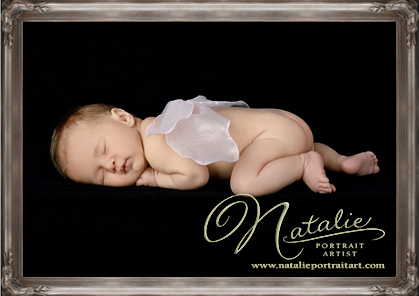 Sarah Crain, daughter of Nicole and Cliff Crain, Daleville, Virginia
At about 3 weeks, Nicole brought Sarah to the studio for her first portrait session- and this very image. Nicole had wanted a portrait like this one of one of her babies ever since the first time she saw our work. Although her older children were already beyond the baby stage, when Sarah came along, she took the opportunity to have this portrait created. Sarah, being so young, was perfectly amenable to almost everything we wanted to do; she slept through most of the proceedings. This image hangs as a Watercolor portrait in the family's home.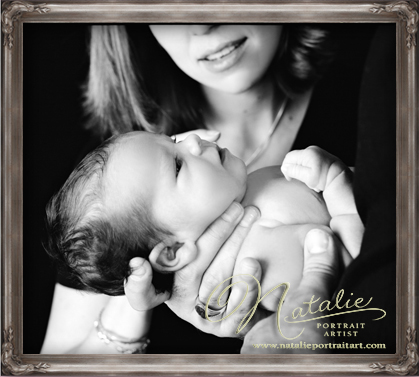 Savannah Derey, daughter of Walt and Meggan Derey of Roanoke, Virginia
Precious little Savannah was about 10 days old when she and her parents Meggan and Walt came to the studio for the first time. This is one of my all-time favorite images; I love how tiny she is, cradled in her father's hands. She was so small that she was still wrinkly! Portraits of babies this small are so important- they grow so quickly at this age that after a few short weeks, they've completely changed. Parents often remark that without a portrait, they would find it difficult to remember exactly how tiny their baby at first was!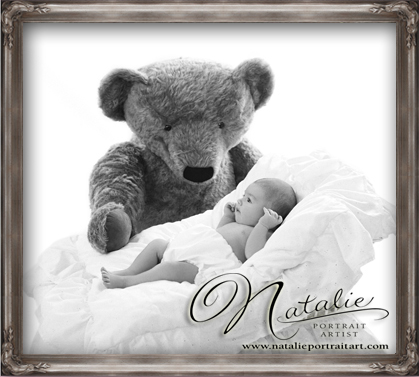 Vandalina Holcomb, daughter of Stacey Holcomb, Bassett, Virginia
Little Vandalina was her parents' "miracle baby" – after being told they wouldn't be able to have children, voila! Along she came. Needless to say, she is the center of her mother's life, and was a very loved little baby. Stacey first came to see us at the studio when Vandalina was just a few weeks old, and she cooperatively posed for us. We both loved the way her tinyness was highlighted by the size of her great big teddy bear.