The Family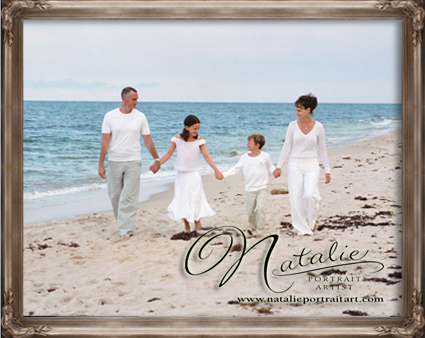 busco chico para amistad Patricia wanted a family portrait that was about her family – not just something of everyone looking uncomfortably at the camera in a studio. So she decided to commission a portrait session where they vacation at Palm Beach, Florida.
this article Rich, a very busy CPA who owns a medical services firm, loves to be with his family, but Patricia knew he would be more relaxed while at the beach, so she knew it would be the perfect place for a portrait. We designed a piece of artwork that would showcase the strong family connections between Rich and Patricia and their beautiful children, Amy and Charlie.
read this post here Rich and Patricia, and even the children, are thrilled with this image, which is displayed as a Watercolour portrait in their home. Patricia says it reminds her every day of how important her family is – and of how fast time is going by.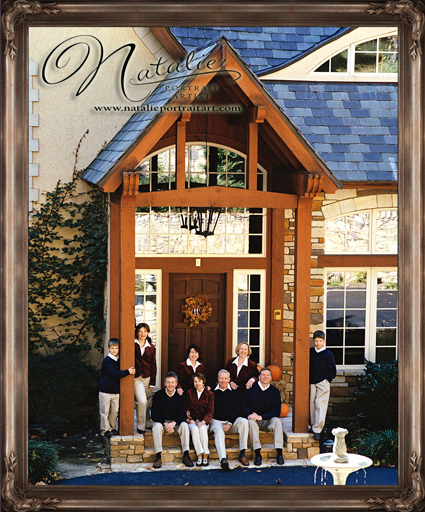 Susan has a common situation- she lives in one state, her parents live almost halfway across the country, while her sister lives in Canada. With everyone- including her children, she and her sister, and especially her parents – getting older, she decided to seize the opportunity to have a portrait created while her family was visiting. The Heaths live in their dream home, a custom-designed house that looks as if it rose from the pages of a storybook, that sits on a beautiful property nestled in the foothills of the mountains. We created some images in a meadow with the brilliant fall foliage as a backdrop, and some here at the house.
Since her husband, Dr. Robert Heath, is a busy radiation oncologist, their three children keep her on the go, and her other family lives far away, Susan was thrilled to finally have a wall portrait of the whole family, so she can enjoy them every day.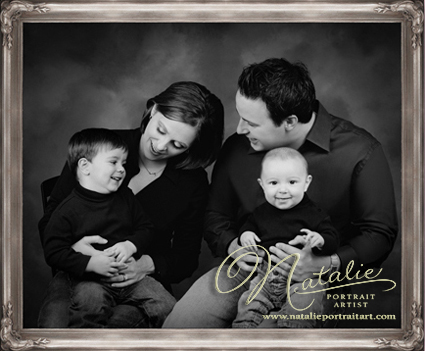 The Wilson Family, Roanoke, Virginia
With two little boys, and two careers, Brock and Brenda wanted a portrait that spoke of their relationship altogether as a family. This was the first time they had been photographed together since their wedding, so they wanted something they could proudly display in their living room. This portrait of Brock, Brenda, and sons Brayton and Brevin epitomizes what their life was like just a short time ago – lots of cuddle time, but never a dull moment!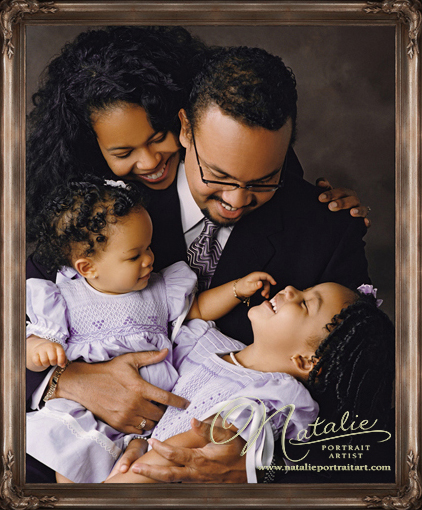 The Wimbish-Jacobs Family Blue Ridge, Virginia
Drs. Jacqueline Jacobs amd Pink Wimbish, busy podiatrists with their own practices, wanted a portrait that said something about the time they get to spend with their daughters, Olivia and Athena. One of the things they mentioned that they really enjoyed about their family time is simply being together.
Jacqueline and Pink were thrilled with this portrait because it exemplifies those precious moments when everyone is together, happy and peaceful. They chose to display it as a wall portrait in their custom-built home.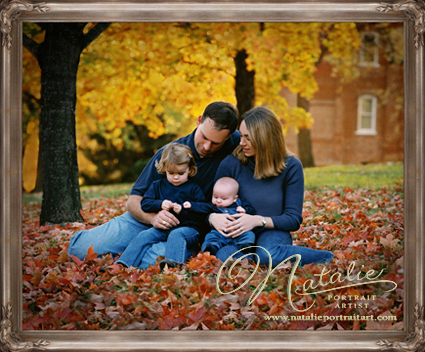 The Derey Family, Roanoke, Virginia
The Dereys have a classic family story. Meggan met Walt in college at the University of Virginia while Walt was a starting-lineup football player there. They settled in Roanoke where Walt joined his father in their family building business. Meggan stays home with their children, Savannah, Brooks, and Carter (who hadn't yet arrived in this portrait). A quiet moment in a young family's life is what this image portrays.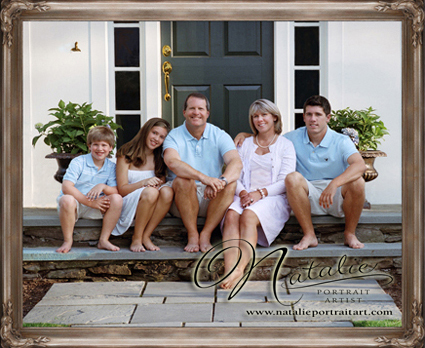 The Koonce Family, Hingham, Massachusetts
Lee Koonce wanted a simple family portrait at a place where the whole family can relax – home. With her husband Mike, in investment banking, and her three children- Sam, a senior in high school, Molly, and Jack all involved in sports, everyone is all going in different directions. While they had had portraits made in one of their favorite vacation spots, they had never had anything created at their beautiful custom-designed home. "When we're all together, this is where we usually are," says Lee. So what better place to create a portrait of the whole family than at the very center of family life- home!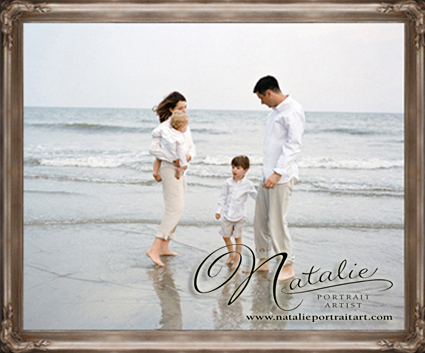 The Lauth Family, Reston, Virginia
Larry and Kim, along with sons Simon and Oscar, played on the beach while we photographed them at Hilton Head, South Carolina, where Larry's mother owns a home. At the time, Simon was about four years old, and Oscar only about eighteen months old, so while we created some images of them sitting together, the ones we captured of the family just being themselves have become moments suspended in time. Oscar and Simon are older now, and life is more hectic than ever, but this image will always be there to remind the family of this never-to-be-repeated time in their lives.
This portrait hangs as a Watercolour wall portrait in the family home in Hilton Head.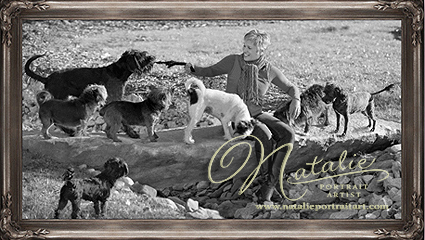 Beth Marcus, Crozet, Virginia
While this isn't what we normally think of as a family portrait, this is Beth's family- her dogs! Zach, Minnie, Mouse, Miso, Zoe, Daffy and Zippy who all have personalities as individual as people, share Beth's home with her, travel with her, and are her constant companions. Beth has a true soft spot for dogs- she works closely with local animal shelters, and many of her dogs are adopted. She even fosters dogs until they can be adopted! More than anything else, they have been a link to her husband, whom she lost a few years ago. He shared her love of animals, breeding race horses.
So when we designed a wall portrait to hang over her living room mantle, she wanted something that included all of the dogs. This image brought tears to Beth's eyes. "This is really what they're like," Beth says. "It shows all of their personalities, just the way they are. Ron would have loved to have seen this."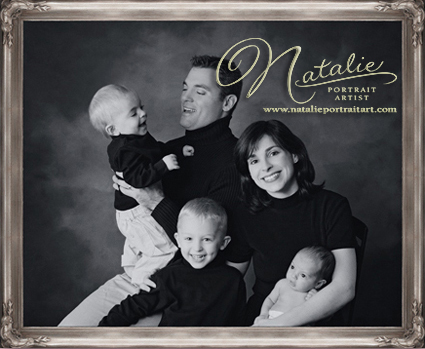 The Goodpasture Family, Salem, Virginia
Robyn came to us when Emily was only two weeks old, wanting a family portrait. She and her husband Richard had their hands full with three little children. The session lived up to our expectations – it was hectic, with both parents, a newborn, a toddler, and a three-and-a-half year old being in the portraits all together! But when she chose this image for her wall, Robyn said, "This is us- this is how our family is right now." Now, a few years later, Robyn can remember exactly what that fleeting time in her family's life was like.
Which is, after all, the whole point of a family portrait.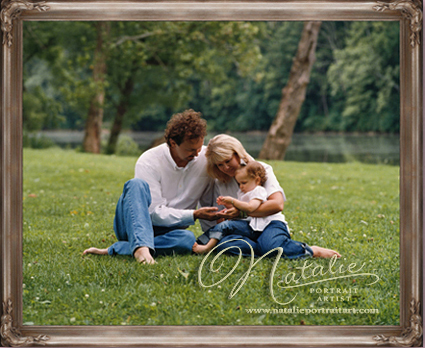 The Hill Family, Salem, Virginia
Jeff and Jodi wanted a portrait of their family including their little girl, Hannah, around the time she was eighteen months old. They own a weekend home on the river, which we decided would be the perfect location for a portrait of the three of them together. Can you tell that Hannah is the center of their world? Jodi and Jeff both love their portrait because it shows the close bond they feel with their daughter. It is such a natural vignette of a young family. This image hangs in their home as a Watercolour portrait.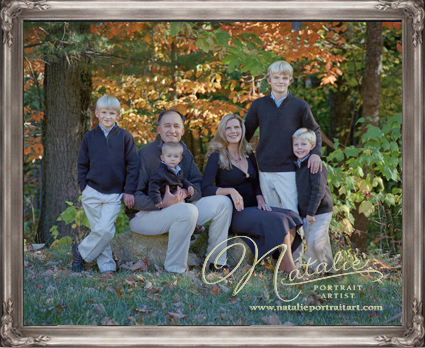 The Prokopchak Family, Roanoke, Virginia
Heather came to us knowing that she wanted a portrait that showed the personalities of all six people in the family – Heather, her husband, Dr. Richard Prokopchak, and their sons, Tyler, Zhenya, Braden and Keaton. She wanted a beautiful piece of artwork that she could hang over her fireplace in the great room of their newly-built home. And she wanted the portrait to show the feelings she and Rick, a surgeon, have for their children.
In spite of the challenges of getting everyone together and coordinated for the session, Heather did just that, and this image of the family outside their home includes everything she wanted to see over her mantle. "When I am describing the portraits to others, I actually get tearful, because they bring out so much emotion," Heather says.