Parent & Child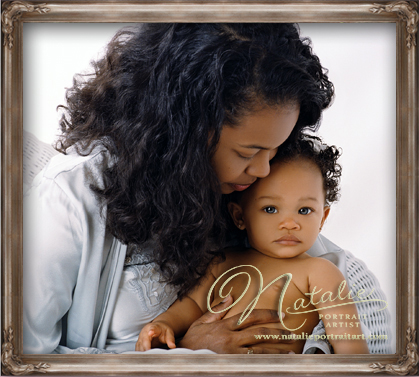 Dr. Jacqueline Jacobs and daughter Athena, Blue Ridge, Virginia
This portrait was part of an extended session of the whole family – parents and two little girls – in the studio. We branched off and took some time to create a portrait of beautiful one-year-old Athena with Jacqueline. Jacqueline had come to us for portraits of her oldest daughter Olivia, and wanted something of Athena to hang with it. I love the way Athena is relaxed, comfortable and secure in her mother's arms, and how you can feel the motherly love that Jacqueline has for Athena..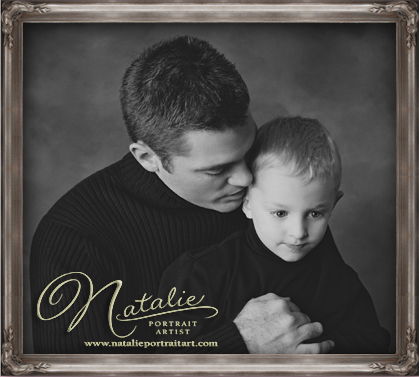 Richard and Rye Goodpasture, Salem, Virginia
We created this tender image during a portrait session with the Goodpasture family when Rye was about 3 ½ years old. It was classic family-portrait-session chaos in the studio that day! But we took the opportunity to photograph Richard and his eldest son Rye. Families often don't have very many opportunities for this type of image, and this is one of my favorites of a father with his child. The closeness is evident in the way Rye's father is holding onto him.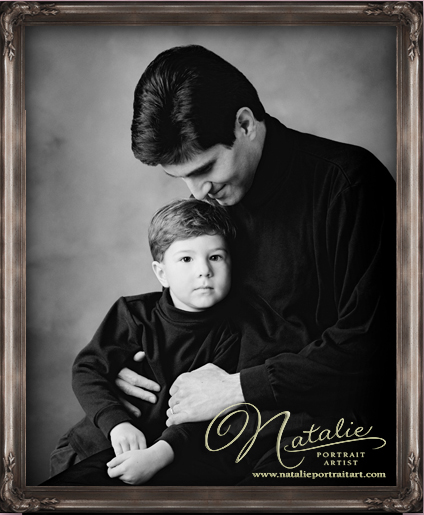 Rick and Nathan Seidel, Roanoke, Virginia
This portrait of Dr. Rick Seidel and his then 4-year-old son Nathan is one of our marquis images. Rick and Nathan, along with wife and mother Laurie, were visiting the studio for a family portrait, and we created some additional images of Nathan with each of his parents. There are so many things about this portrait that came together perfectly – the soft smile of pride on Rick's face, Nathan's tentative expression, the tender way he is leaning up against his father, the security evident in the way Rick is holding onto Nathan. Laurie and Rick have this image on canvas, as a wall portrait in their home, and it even was featured in Town and Country Magazine.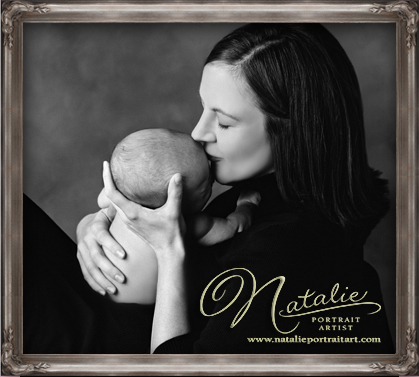 Lisa and Colton Gregory, Roanoke, Virginia
Lisa had come to us for portraits of her first baby, Madelyn, and now wanted something of her first son, Colton. One of Lisa's favorite stages in her baby's life is this one. She wanted a portrait of Colton that was similar to the portrait of Madelyn, yet different. That's never too difficult – every child has his or her own personality – right from birth. So we created this vignette of an intimate moment between mother and baby. Lisa felt that this image really spoke of what she felt for her son at such a tender age.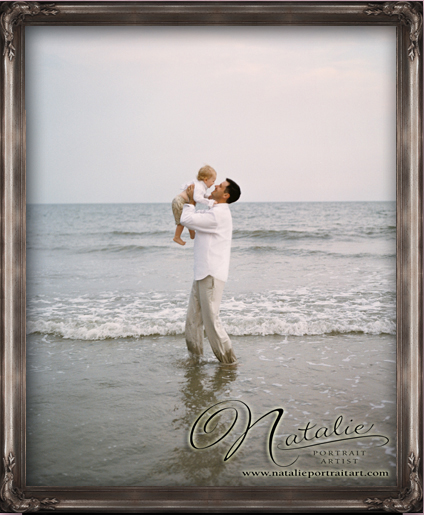 Larry and Oscar Lauth, Reston, Virginia
Larry is seen here playing with his son Oscar, about 18 months old, on the water's edge in Hilton Head, South Carolina. We created this image during a portrait session of the extended family while they were all gathered in Hilton Head at the family's vacation home. Larry's mother, Mary Elyn McNichols, has a Watercolour Portrait of this image hanging in her bedroom, and loves it because it represents a time in Oscar's life that has already gone by. Children aren't very old when they're too big for this kind of interaction – maybe that's one of the reasons we find it so compelling.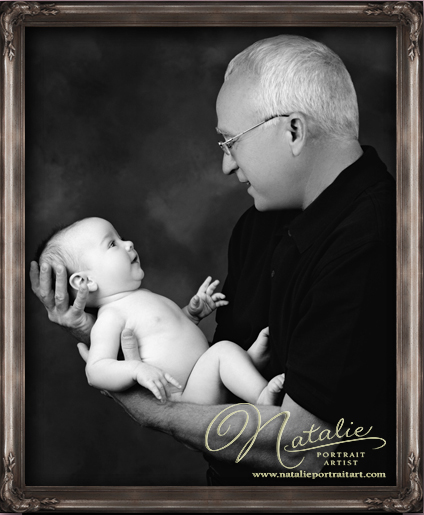 Steve and Elle Williams, Roanoke, Virginia
Elle was about two months old when her parents, Steve and Rebecca, brought her in to the studio for portraits. We convinced Steve, who hadn't been the parent of a baby for quite a while, to be part of some of the images. It was obvious to anyone that he was enjoying his new relationship with Elle. She was happy and content, especially when she was in her father's arms. In this image, she was talking and cooing to him, sometimes giggling, and you can almost see the growing bond between the two.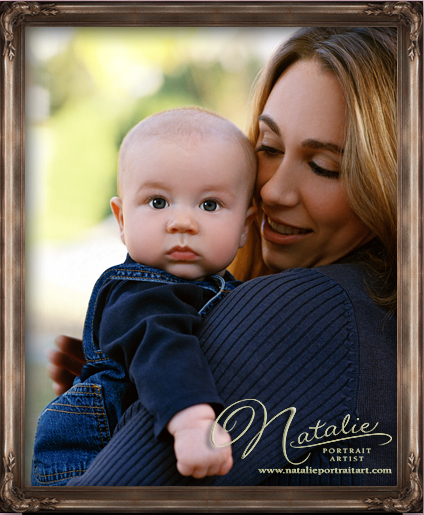 Meggan and Brooks Derey, Roanoke, Virginia
Brooks was only a small baby when we created the Dereys' family portrait on the campus of Hollins College in Roanoke. Since for most families, a portrait takes a fair amount of coordination and planning, we always try to make time to photograph the individual relationships within the family. Here we see Brooks and his mother Meggan, in the beautiful fall light of an October evening.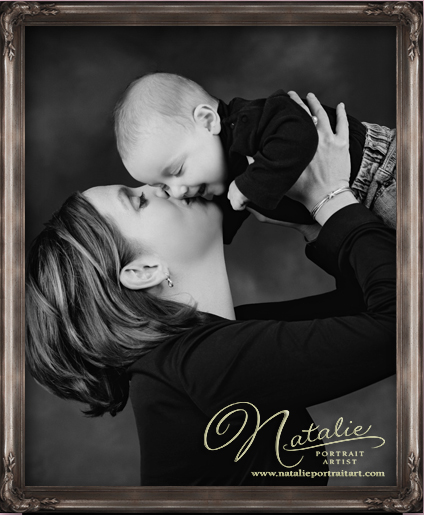 Brenda and Brevin Wilson, Roanoke, Virginia
Brenda and her family came in for a portrait session of everyone, but we took the opportunity to create images of Brenda with each of her little sons. Here you see Brenda with her youngest son, Brevin. He was still in the cuddly stage, well before he started walking. This image depicts the bond a mother has with her little boy. Brevin obviously feels that same trusting bond with his mother.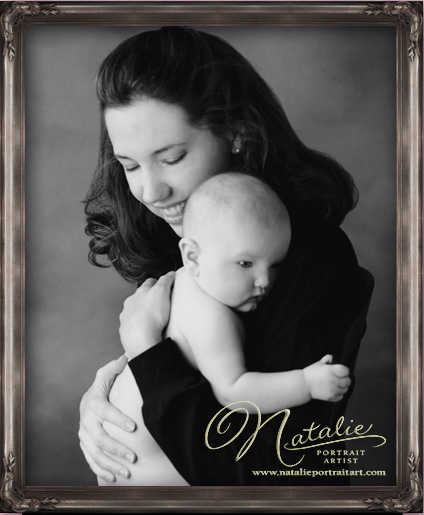 Kim and Oscar Lauth, Reston, Virginia
Oscar was about 3 months old when he and his brother, mother and grandfather came to the studio for some images for his grandmother. He was so good – we only heard him when it was time to eat! I love the way, in this image, Oscar is holding onto Kim, and the feelings Kim has for her son are so evident. I love the expression on the faces of both mother and baby. That feeling is what being a mother is all about.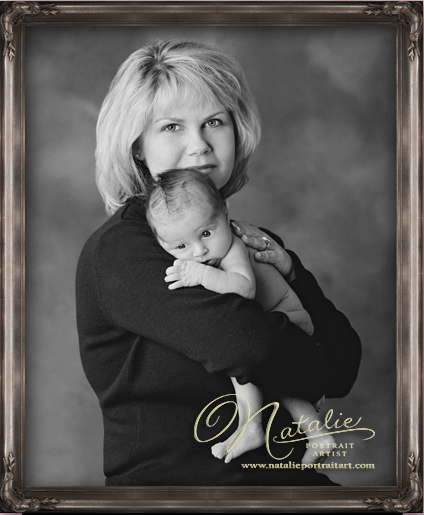 Jodi and Hannah Hill, Salem, Virginia
Jodi and her husband Jeff came in for portraits with their newborn daughter Hannah – their very first child – when she was only about 2 weeks old. Jeff and Jodi were very calm and patient for first-time parents, and they were so natural with tiny little Hannah, who was having a little trouble adjusting to her new life in the outside world. (She didn't like the idea of having no clothes on!) But we gave her time to nap and eat in between poses, so with her parents' help, we were able to create this beautiful image of Jodi and Hannah. You can see their new relationship – the happiness in Jodi's eyes, and the way Hannah is clinging to her mother.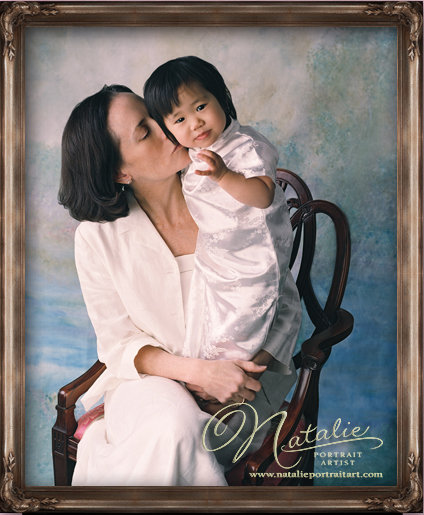 Thesia and Annadora Garner, Washington, D.C

.
Annadora was about 18 months old when we visited her and her mother, Thesia, in their Capitol Hill home to create portraits of them. Thesia had trekked to China just six months earlier to bring Annadora home. At the time, Annadora was still a little on the quiet side, a little bit tentative, and she was a very honest portrait subject. Annadora wore a dress in the portrait that came from her home province. Originally, Thesia had planned on a portrait of Annadora, but when she saw this image, she felt it really represented the journey they had both made in their lives together, finally becoming a family together.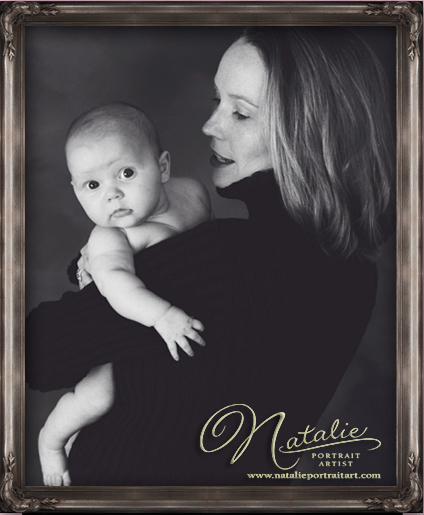 Trista and Elyse Farrell, Roanoke, Virginia
Just recently I photographed Elyse and her older brother Bruce- Elyse is now in elementary school and has really long hair, but she still has those big questioning eyes. She was several months old in this image, and she was a bit of a challenge to work with- we thought we would have to settle for something of her sleeping. But then in a split second she let me have this image. It was a totally spontaneous moment, and one of my favorites in photography.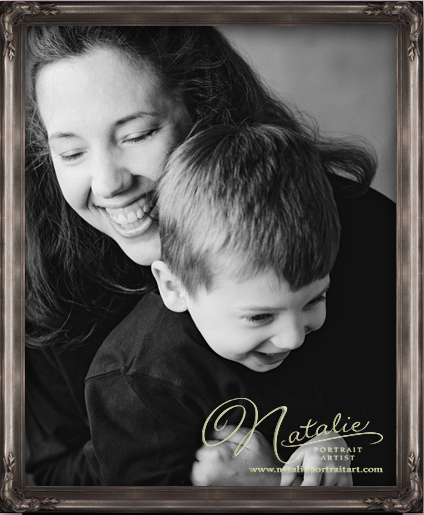 Kim and Simon Lauth, Reston, Virginia
During the same session in which we were photographing Kim and Oscar, we made some images of Kim with Simon. Here is a playful moment between mother and son. I think it's a touching vignette of the moments in a family's life – especially since this kind of moment won't be repeated very often once the boys are grown up!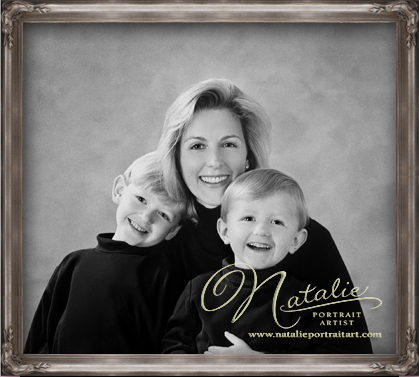 Elizabeth Cranwell and sons, Jack and Joseph, Vinton, Virginia
What a wonderful moment! And what mother wouldn't be happy to see these smiling faces each day? In a portrait, these precious moments when children are still young will still be with you – even when they're no longer so young. Elizabeth's beautiful sons, Jack and Joseph, are a lot different now than they were in this image, but she has this portrait to enjoy forever.